Managing your forms list
On the right hand side of the Forms List title bar you will see a button 'Forms to fill'. Click on this to see when your forms were created and how many fields per form.
Below the Forms List title bar you will see the following 5 icons:
Create new form

: Either start with a blank form or import from Excel

Filter

: Filter Active, archived or deleted forms

Display

: You can display responses, files or shares

Event list

: Allows you to create an event

Help

: Get more information about Forms
The forms list displays the active forms within your account. It also displays how many responses you've received, from whom and when the form was last modified. It also gives you options when you mouseover the form you wish to select.  
When you mouseover the "Brno Fair" you can see 4 icons at the right hand side which allows you to edit the form, check reports, create an event from this form and archive the form.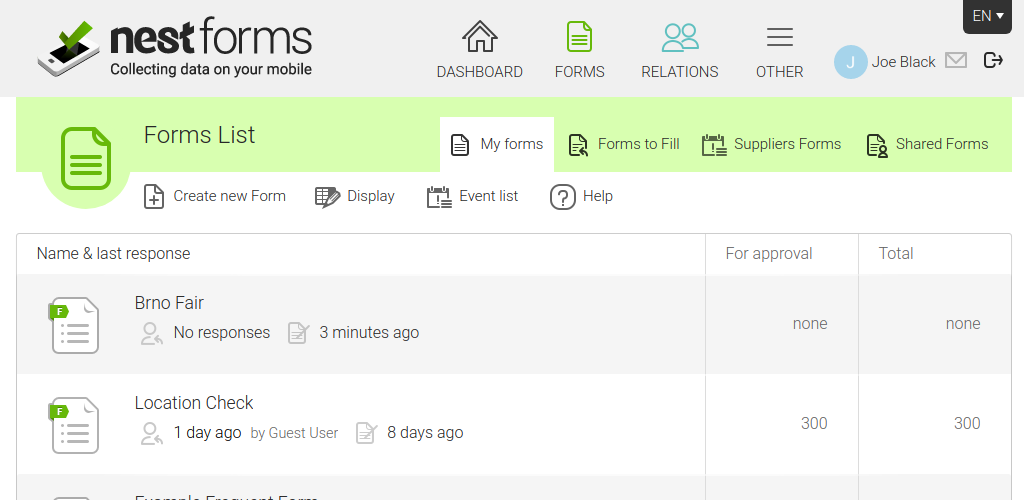 When you have retrieved any data your responders have collected on the ground and you no longer require the form in your NestForms account you can go to the Forms list, mouseover your form and click the delete icon.
If you delete any form, that form and all relevant responses are kept within the system for another 14 days. This is a safety measure to help clients retrieve any forms and associated response data they may have deleted by accident. 
Any data you have deleted is permanently removed and there is no way we can retrieve this data after the 14 day period. 
Deleted forms data are not calculated within your account storage limits.
To access a form that has been deleted in error and is still within the 14 day period 
Going to the Forms list page

Mouseover the

Filter

in the submenu 

Click to

Deleted forms

(this option is available only if any deleted forms exist)

. You can see the form details and responses even if the form is deleted. 
Undeleting forms
If you want to undelete a form that you have accidentally removed within this 14 day period
Mouseover the form in the Deleted forms list, 

Click the delete icon 

A popup will appear which will allow you the option to

reactivate

the form again

.
Deleted responses are also kept for 14 days - see more on Deleting responses.