What is a Form on Nest Forms?
At NestForms a form represents information that needs to be collected using data input fields, these can be questions just as you would expect on a paper based form, but also allows other data options such as GPS, Audio and Photos.  Your Forms are shared through an Internet connection to a smartphone or tablet using iOS or Android.  Forms are then completed on these devices and can be filled in multiple times.  It's easy to get a new blank copy of the paperless form.
Forms that are completed and sent back to the NestForms administrator are called responses and you can learn more about responses on the What is a Response? help page.
How is a Form Created?
Within your NestForms web account we provide you with a user friendly online form creator, which we call the form builder. With a simple drag & drop function you are able to create your paperless forms very easily. If you feel confused at first or just want to explore all the possibilities available in the form builder, you can visit our help section dedicated to Forms and in particular Creating Forms to get familiar with adding components to your forms.
What is a Component?
A component can be referred to as a piece of information required from the responder.  Using our form builder, your form is composed from several components representing questions or information required.  There are different types of components depending on how you require your data to be received.
For example, if you want to ask the responder what is his or her name, you would not expect  the answer to be a numeric range, and therefore you would use a text component.
More specific information about our component types is available in the Form builder help section.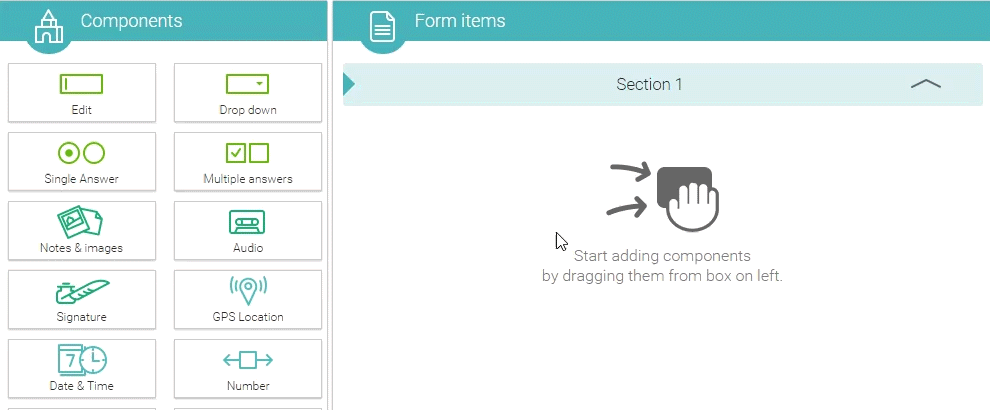 What to do with a Form after I have created one?
Once you have created your form you can then share it with your relations. How to do this is explained in the Form builder help manual. Responders can view the form within the app on their iOS or Android device and can start collecting data instantly. 
Completed responses are then shared back to the corresponding original form created by the administrator. What to do with valuable data is further discussed in the Reports help section.