When using GPS, you can decide the minimum level of accuracy required when collecting GPS coordinates out in the field.

It is important to remember that adding a GPS location is strictly based on coordinates given to you via a GPS satellite. This is not to be confused with wifi location coordinates (which are less accurate)
With this in mind, when adding the GPS component to your forms, you can choose between three minimum levels of accuracy:
Any

(Checks the device GPS, Wifi & Mobile data location, no accuracy limits set)

Medium

(Set as default - Checks GPS only - within 100 metres)

High

(Checks GPS only, within 20 metres, slower)
The differences between these options are purely based on your requirements.
Examples for Any Accuracy
If you are working with low spec devices that do not contain a GPS module (this can be the case in some cheaper Android devices)

Your survey is being processed inside buildings or within urban areas with tall buildings - where it might be hard to acquire the GPS signal
Examples for Medium Accuracy (default option)
You require a standard location and you want to be sure that is has a minimum level of accuracy

If you are not sure

, just simply set

Medium

as default and wait for the results from your colleagues
Examples for High Accuracy
If you need to collect more exact coordinates of a location of interest. Then use the

High

option. This will work only when you can see the sky without any physical barrier
Obviously when the select on map option is enabled, you can still pick the coordinates within the map view.
The minimum level of accuracy is applied for Android devices only, it will be added to the iOS app later. Please, let us know if this is a requirement on iOS and we will speed up the development.
Screenshot from the app when there is no location found yet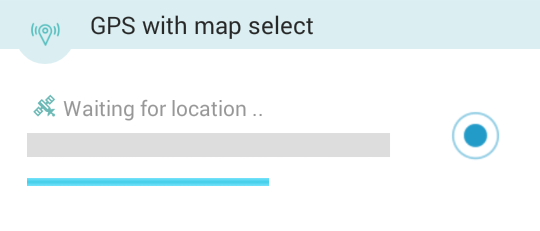 Screenshot from the app, when the location was found just now, but the app is still scanning for better location for few seconds: